Now Available to Download: A Reflection Study Guide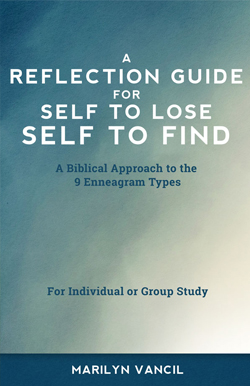 The newly-released Reflection Guide will deepen your understanding of the content in
Self to Lose – Self to Find: A Biblical Approach to the 9 Enneagram Types
. This Guide is designed to facilitate movement from merely gaining information to experiencing "holy aha moments" that lead to personal transformation and spiritual renewal. It can be used for individual reflection or in a group study.
Order and Download your personal copy today!
"Our Bible study group used the Reflection Guide to more easily maneuver through Marilyn's book. It helped us focus on the key points and then the book came alive. We all had our own copy and went through the questions alone before coming to the group. Our discussions were very rich and thought-provoking."
Sylvia W.
"Marilyn presents how our personality patterns relate to our path of development and liberation in relationship to God and spirit. She provides a thoughtful and ground-breaking analysis of the Enneagram system and its valuable contribution to development in the Christian life."
David Daniels, M.D.
Developer of the Enneagram in the Narrative Tradition
Working Together with Marilyn