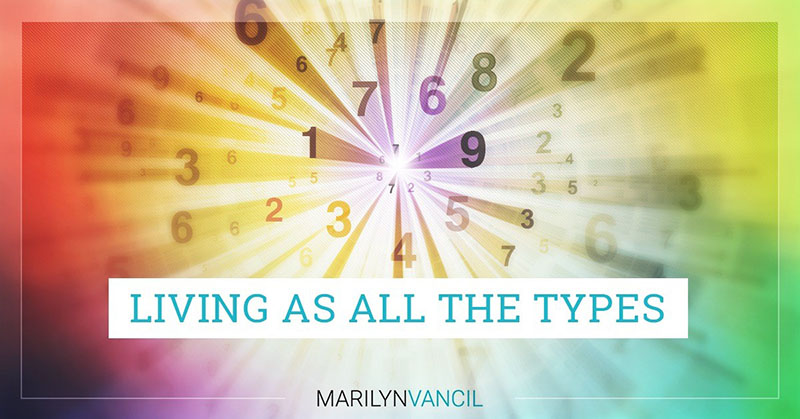 A question I often hear is, "Do we change Enneagram types over time?" My usual answer is, "No, but over time you can become a healthier and more balanced version of your particular type and also have increased access to the higher qualities of all the types."
How does this happen? How does one move from being stuck in the tight protective stance of one's Enneagram pattern to a free and integrated expression of all of them? What brings about true transformational change?
You may recall from my book that I added a Center of Intelligence to the space in the middle of the Enneagram, naming it the Spiritual Center. I wrote about "the powerful reality of being drawn toward the center where our spiritual knowing is connected and aligned with the love and presence of God's heart and mind. When we access our spiritual intelligence, then we can find true and lasting balance" (pages 72-74).
Visualize with me the Enneagram drawing and imagine a tight fist at each of the nine points around the circle. These fists represent the compulsive nature of our type pattern and the solid grip we might have on our ego-oriented ways of being. In this stance, we are closed, stuck, and unreceptive to God's love and direction.
Now imagine a burst of light in the middle. This center point represents the loving union of our spirit with God's Spirit and the place where the fullness of God dwells within us. Notice that each type is equidistant from the center. The closer we are to the Center, the more we will experience and express the divine attributes of God and the WOW qualities of each type. We will naturally embody more goodness, love, radiance, depth, wisdom, faithfulness, joy, power, and peace. Isn't this what you truly desire? I sure do.
How then do we move closer to the true Center? We can say phrases like "surrender to God," but I'm not even aware of what to surrender until I pause, take notice, and reflect on what's going on in me and how God might intersect and intercept my habitual patterns of thought, feelings, and actions. For instance, I can have a pretty tight grip on my Type Nine avoidance of conflict without even realizing how this keeps me from entering into the Nine gift of being a peacemaker. Once I recognize this, I can loosen that 'fist' and open myself more to the life-changing reality of a loving union with God in my spiritual center.
What helps you pause, notice, and reflect? The OWN-UP process I developed is one option you can use. (You can download a free worksheet here.) Or perhaps you employ other ways that support your spiritual life. It doesn't matter what you do, but the vital practice of pausing for honest self-reflection will help move you from the gripping pattern of your Enneagram type to expressing the higher divine qualities of all the types as you live closer to the Center with God.